L. J. Cote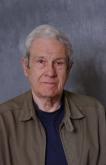 Louis Jean Cote was born in Highland Park, Michigan in 1921 and raised in Detroit, Michigan. Cote got a BA in Mathematics from the University of Michigan in 1943 and went into the Army. Once out of the army, he went back to Michigan and got an MA in Mathematics. He then went on to Columbia University and received his Ph.D. in 1954. His years of teaching include time at Columbia University, New York University and Syracuse University as well as Purdue University. Cote joined Purdue University's Department of Statistics in 1954 as Assistant Professor and in 1960 he became an Associate Professor of Statistics.
Cote was active in many professional societies including Phi Beta Kappa, Phi Kappa Phi, Sigma Xi, the American Mathematical Society, the Mathematical Association of America and the Institute of Mathematical Sciences.
His research interests include Mathematical Statistics and Probability.