Prem S. Puri Memorial Lecture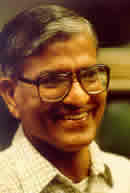 Professor Prem S. Puri received his M.A. (1963) and Ph.D. (1964) degrees from the University of California at Berkeley where he also taught as acting assistant professor of statistics for one year (1965-66). He joined the Purdue faculty as assistant professor of statistics in 1966, being quickly promoted to associate professor (1968) and full professor (1974). Prem Puri also held visiting positions at the Indian Statistical Institute (1983-84, 1986-88), the Steklov Mathematical Institute of the USSR Academy of Sciences (6-7/1973), and at UC Berkeley, and served as a consultant to the U.S. Forest Service (1971-73).
Professor Puri was a prolific researcher, publishing more than 70 papers, mostly in the areas of applied probability, theory of statistical inference, and stochastic models. He also produced seven Ph.D. students, one of whom is on Purdue's Statistics faculty. His leadership in research was recognized by his being named a Fellow in both major statistical organizations in the United States: The Institute of Mathematical Statistics and the American Statistical Association. He was also an elected member of the International Statistical Institute.
Prem S. Puri Memorial Lectures 
Click on the dates below for abstracts
To make a contribution to the Prem S. Puri Memorial Lecture Fund, which funds this lecture series, please visit our Giving page.