Viens to Present College of Science Research Award Lecture
08-15-2013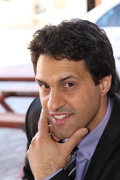 Frederi Viens (Professor of Statistics, Professor of Mathematics, and Director of Statistics for the Computational Finance Program) will be honored as the College of Science's fourth 2012-13 Research Award winner on Friday, August 23, 2013.
Professor Viens will present a short seminar on his research followed by a reception. The seminar, entitled "Long-range dependence: from probability theory, to quantitative finance, to climate science," will be held in LWSN 1142 at 3:30 PM.
Please plan to join us as we honor Prof. Viens and recognize his exceptional achievement.