Ness Awarded Prestigious Boren Fellowship
05-29-2012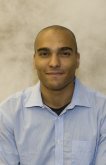 Congratulations to Ph.D. student Robert Ness for being awarded a Boren Fellowship by the Institute of International Education (IIE). David L. Boren Scholarships and Fellowships are sponsored by the National Security Education Program (NESP), a major federal initiative designed to build a broader and more qualified pool of U.S. citizens with foreign language and international skills. Boren Awards provide U.S. undergraduate and graduate students with resources and encouragement to acquire language skills and experience in countries critical to the future security and stability of our nation.
Since 1994, over 4,700 students have received Boren Awards. For the third consecutive year, the Institute of International Education, which administers the awards on behalf of NSEP, received a record number of applications for both the undergraduate Boren Scholarship and the graduate Boren Fellowship. This year, 1014 undergraduate students applied for the Boren Scholarship and 161 were awarded, while 575 graduate students applied for the Boren Fellowship and 119 were awarded.
Ness, who studies under advisor Olga Vitek, is developing statistical methods in network biology, and dynamic measurement and inference in biological systems. His fellowship is the only Boren award received at Purdue this year. Congratulations again to Robert for this prestigious award.