COS Faculty and Staff Awards
02-01-2011
Congratulations to the following Faculty and Staff members who were recognized at Purdue's College of Science Faculty & Staff Awards program and luncheon, held in honor of their achievements, service, and dedication. The program was held at Noon on February 23rd, in the Purdue Memorial Union's South Ballroom.
Jun Xie, Associate Professor of Statistics and Graduate Chair, received the Graduate Mentoring Award for her dedication and service as Chair of the Graduate Program in Statistics, and for the impact she is having on the lives and education of statistics graduate students.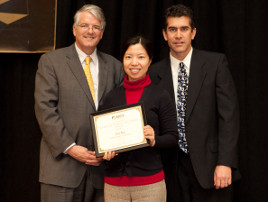 The following faculty members were recognized for their work in establishing and promoting the interdisciplinary science of Machine Learning and Computational Statistics at Purdue University:
Sergey Kirshner (Statistics)
S.V.N. Vishwanathan (Statistics/Computer Science)
Yuan (Alan) Qi (Statistics/Computer Science)
Luo Si (Computer Science)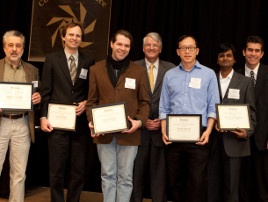 The Shared Faculty Staff Award was given to the following for their commitment to furthering the education of Purdue undergraduates through recruiting and preparing students for the 5th year Masters in Statistics program:
Stacey Dunderman
Ce-Ce Furtner
Becca Miller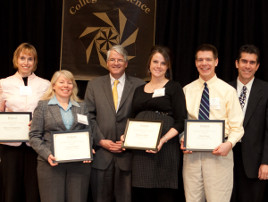 Stacey Dunderman, CeCe Furtner, Dean Jeff Roberts, Becca Miller, Mark Daniel Ward, Bruce Craig
Sandy Howarth, Director of Development for the Departments of Statistics and Biology, was awarded the Customer Service Award. This award is shared between the departments of Statistics and Biology and is given in recognition of service and dedication to philanthropic interests of both departments.