Rebecca Doerge named Trent and Judith Anderson Distinguished Professor of Statistics
10-04-2011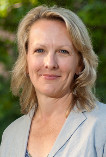 Please join us in congratulating Professor Rebecca W. Doerge, ratified by the Purdue University Board of Trustees at their September 30 meeting as the Trent and Judith Anderson Distinguished Professor of Statistics. Doerge is the Head of the Department of Statistics and a professor of statistics and agronomy. Her primary area of research is statistical bioinformatics, and she is the Head of Purdue's Statistical Bioinformatics Center.
Doerge earned her B.S. and M.S., both in Mathematics, from the University of Utah, and she received her Ph.D. in Statistics from North Carolina State University. She has been with Purdue since 1995, and she was named Department Head in July 2010.
See the article on the Purdue Newsroom website for more information.