Mortar Board Recognizes Statistics Students and Staff Member
04-14-2007
On April 14, 2007, the Barbara Cook Chapter of Mortar Board recognized Statistics graduate students Shannon Knapp and Amy Watkins with Tip of the Cap Awards and Teena Erwin, Statistics staff member, with the Rose Award. Tip of the Cap awards are given to "unsung leaders" in the student body. Nominated by their student organizations, the winners are usually the worker bees who quietly buzz about expecting no credit. Rose awards are given to clerical and service staff workers nominated by faculty, staff, or students who know the work habits of the nominee. Recipients of this award are always surprised by members of the chapter greeting them at work.
Shannon Knapp, Statistics Ph.D. graduate student, received a Mortar Board Tip of the Cap Award for her work with Purdue Graduate Student Government. Shannon became involved with the graduate student government when she first arrived at Purdue in the fall of 2000, working on the Travel Grant Committee. She spent a number of years as the Chair of the Travel Grant Committee, using her statistics skills to streamline the application and review process and standardize reviewer scores. During the 2006-2007 academic year, she served as Treasurer for PGSG. Shannon is a fifth year Ph.D. student working under Professor Bruce Craig. She earned a bachelor?s in Biology from American University and a master?s in Wildlife Science from Virginia Tech. Shannon?s dissertation, "Adjusting for genotyping error in non-invasive DNA-based mark-recapture population estimates," combines her statistics education with her background in ecology and wildlife.
Amy Watkins, Statistics M.S. graduate student, received a Mortar Board Tip of the Cap Award for her contributions to STATCOM. Amy grew up in Bloomington, Indiana, and earned her Bachelor's degree in Mathematics and Statistics from the University of Miami Ohio. She came to Purdue in the fall of 2005 and immediately got involved in STATCOM. Amy?s first STATCOM project was a parking study for the City of West Lafayette. She then worked as a team leader on a charter school project. For the past year, Amy has not only served as the STATCOM secretary, but has worked as part of STATCOM's outreach group, helping to establish STATCOM groups at other universities. In this capacity, Amy coordinated the production of an informational video, and traveled to the University of Miami Ohio, the University of Michigan, and the University of Illinois to talk to student groups about starting their own STATCOM. Amy also took the initiative to implement ISO 9001-2001 quality control standards to improve how STATCOM operates as an organization and the quality of the STATCOM service to the community. According to STATCOM advisor Gayla Olbricht, "STATCOM has greatly benefited from Amy?s involvement. She takes initiative to go above and beyond her own responsibilities by volunteering to do anything she can to help. [Amy] is ultimately everything STATCOM could hope for in a member." Amy is graduating this May and will be moving to Memphis where she will work as a Research Analyst for St. Jude Children's Research Hospital.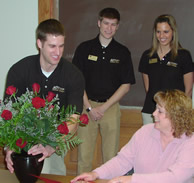 STATCOM also nominated Teena Erwin, Information Processing Systems Operator V and Secretarial Assistant to the Statistical Consulting Service, for the Mortar Board Rose Award. Teena recounts how she was heading to what she was told was a staff meeting, pad and pencil in hand. She noticed her co-workers were grinning at her, then in walked members of Mortar Board with a dozen roses. "It was a total surprise," said Teena. Teena has provided clerical support to STATCOM since its inception in 2001. Teena said, "It just stemmed from working with the consulting service." Although her work for STATCOM is on a voluntary basis, she insists that it "just seemed like part of my job." Teena is the contact person for STATCOM, providing a consistent contact point for the organization despite the inherent turnover of its continually graduating student membership. Teena also provides her clerical expertise obtaining supplies and developing products including business cards, letterhead, and brochures. Perhaps Teena?s most important role is as STATCOM?s cheerleader. STATCOM leaders have remarked on her enthusiasm and "overwhelmingly positive attitude." Clearly Teena enjoys her role, "STATCOM people are a lot of fun to work with." Teena insists what she does for STATCOM is "nothing really." However, according to STATCOM advisor Alex Lipka, "Her voluntary work helps STATCOM be more efficient in delivering high quality products to our clients. If Teena did not choose to assist STATCOM, I believe that STATCOM would have had a much more difficult time establishing itself as an organization that is now recognized and respected across the nation." Teena has been with Purdue since 1976 and with the Department of Statistics since 1982.