Our Clients
Since its foundation in 2001, StatCom has helped over 40 government and nonprofit organizations, and the number continues to grow. Some of the projects we have worked on are summarized below.
Recent Clients:
Public Schools and Libraries: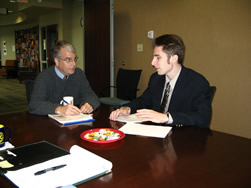 Alex Lipka (Ph.D. 2009) discusses StatCom's findings with Nick Schenkel of the West Lafayette Public Library.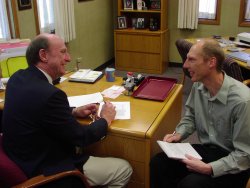 Nels Grevstad (Ph.D. 2003) speaks with Lafayette School Corporation superintendent Ed Eiler.
Community Centers and Organizations: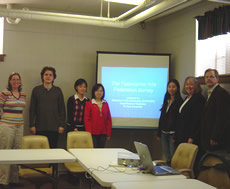 A StatCom team presents survey results to the Tippecanoe Arts Federation's Board of Directors.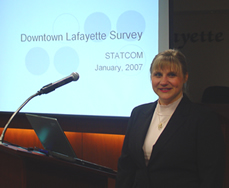 Cherie Ochsenfeld (Ph.D. 2009) presents the results of the downtown Lafayette survey at a public meeting.
Government Projects:
P-12 Outreach:
In 2004, StatCom added a P-12 outreach component to our activities. Members develop age-appropriate, hands-on statistics activities to present at educational events, such as classroom visits and community festivals. Some examples of P-12 activities are listed below. To learn more about StatCom P-12 Outreach, please visit our P-12 Outreach webpage.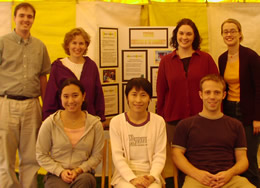 The first StatCom P-12 Outreach team organizes activities for Spring Fest.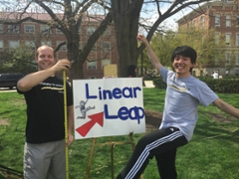 Barret Schloerke and Yumin Zhang facilitating the Linear Leap activity at Spring Fest 2015.