David and Nancy Moore Receive Dean's Ovation Award
02-14-2007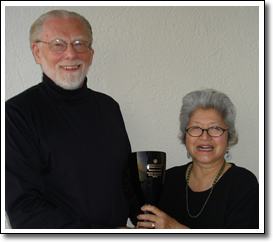 On February 11, 2007, Dean Vitter presented Emeritus Professor of Statistics David Moore and his wife, Nancy, the Ovation Award in Naples, Florida.
In 2005, the Dean?s Ovation Award was established in the College of Science to recognize individuals who have made extraordinary gifts?contributions either of exemplary service and leadership, or of financial resources?in support of the College?s mission to achieve excellence in discovery, learning, and engagement. "Both kinds of gifts?of service and of financial resources?are critical in moving the College forward," states Dean Vitter.
This year?s Ovation Award recognized the Moores? generosity to the Department of Statistics and Statistics students. As he presented the award, Dean Vitter noted the Moores? passion for excellence in learning, commitment to support outstanding students, and their outstanding challenge gift for the Shanti S. Gupta Professorship.
Information about contributing to Statistics gift funds, including the David S. Moore Undergraduate Scholarship Fund, can be found here. Information about the Moores? challenge to alumni and friends that will match the first $100,000 raised to support the Shanti S. Gupta Professorship. If you have questions, please contact the Director of Development, at 765-496-7502.