Bhramar Mukherjee Selected as a 2021 Purdue University Distinguished Woman Scholar
03-04-2021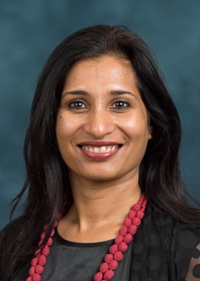 The Office of the Provost, in partnership with the Susan Bulkeley Butler Center for Leadership Excellence, announced the honorees of the 11th Annual Distinguished Women Scholars award to honor alumnae who earned a Purdue doctorate and have made significant scholarly contributions to their respective academic communities.
The Department of Statistics is pleased to share that Bhramar Mukherjee, who earned her PhD in statistics from the department in 2001, is one of two honorees chosen for 2021. Honorees from 2020 and 2021 will be invited to participate in a virtual reception on March 17, 2021. The awards will be presented by Jay Akridge, provost and executive vice president for academic affairs and diversity. The 2020 recipients are being honored this year due to the cancellation of the regular celebration because of the pandemic.
"With March being Women's History Month, it is the perfect time to celebrate these alumnae," says Mangala Subramaniam, director of the Butler Center. "It is the month to remember the contributions of notable and ordinary women, in hopes that the day will soon come when it's impossible to teach or learn history without remembering these contributions."
Bhramar Mukherjee is John D. Kalbfleisch Collegiate Professor and Chair of Biostatistics; Professor of Epidemiology and Global Public Health, University of Michigan (UM) School of Public Health; she also serves as the Associate Director for Quantitative Data Sciences, The University of Michigan Rogel Cancer Center. Her research interests include statistical methods for analysis of electronic health records, studies of gene-environment interaction, Bayesian methods, shrinkage estimation, analysis of high dimensional exposure data. She has co-authored more than 270 articles in statistics, biostatistics, medicine and public health. She is the founding director of the University of Michigan's summer institute on Big Data.
Bhramar is a fellow of the American Statistical Association and the American Association for the Advancement of Science.  She is the recipient of many awards for her scholarship, service and teaching at the University of Michigan and beyond: including the Gertrude Cox Award, from the Washington Statistical Society in 2016 and most recently the L. Adrienne Cupples Award, from Boston University in 2020.
Bhramar and her team have been modeling the SARS-CoV-2 virus trajectory in India for the last one year which has been covered by major media outlets like Reuters, BBC, NPR, NYT, WSJ, Der Spiegel, Australian National Radio and the Times of India. Bhramar graduated with a PhD in Statistics from Purdue in 2001 under the supervision of Professor WJ Studden and remains a proud Boilermaker.