Undergraduate Student Spotlight: Lake Yoke
02-03-2015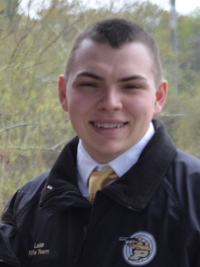 Lake Yoke is a sophomore Mathematics and Statistics major participating in the Purdue Statistics Living Learning Community, sponsored by the National Science Foundation.  He originates from Florida, where he was first introduced to the field of statistics in his high school AP Statistics course.  During this course, he realized that statistics seemed to 'make sense' and decided to make mathematics and statistics the focus of his college academics.
Lake chose to attend Purdue because of its strong academics and also the rifle program.  He is an avid competitive shooter and sought a college experience that would balance his academics and extracurriculars.  During his on campus Summer Transition, Advising, and Registration (STAR) visit before his first year, Lake was introduced to the concept of learning communities at Purdue.  He participated in the Global Science Partnership during his freshman year. 
He enjoyed that experience enough that he then decided to apply to the inaugural year of the Statistics Living Learning Community.  He was accepted to participate with 19 other students who all live together in Hillenbrand Hall.  This group of 20 students is advised by Dr. Mark Daniel Ward.  As a part of the learning community, they take three courses together: Probability, Statistical Theory, and a new course that introduces students to Big Data Analysis.  Because they live together and take these courses together, there are always students working together on homework and projects in the lounge, creating a very collaborative environment.  Another aspect of the LLC is that each student also works on an applied project with a mentor in a research thrust of their choosing. 
Lake chose to participate in the Statistical Consulting thrust with mentor Dr. Bruce Craig, because of the variety of projects that come through the Statistical Consulting Service.  He, Patrick Gallagher (another Living Learning Community member), and Dr. Craig are working on The Healthy Homes project with Dr. Ellen Wells.  This study retrofits low income housing and compares government versus energy star improvements and ratings.  Their dataset contains air quality measurements collected every 30 seconds from sensors placed in twelve houses, each with four to five rooms.  The houses were monitored continually for six months to a year each. 
Given this dataset, they had two main issues, one of which was a large amount of missing data.  They also noticed that some of the sensors had calibration and saturation issues.   Because of this, their first main goal was to visualize the data with graphs.  This data visualization aided in identifying the problem observations in order to discuss an appropriate solution to deal with them and also the missing data. 
Through this applied experience, Lake has decided to focus on Big Data science and analytics with the hope of consulting in the future.  He is going to work for the Statistical Consulting Service through the summer in order to continue his work in the field and grow in his applied experience, looking for new statistical projects and challenges.