Kyle Bemis Wins John M. Chambers Statistical Software Award 2015
06-03-2015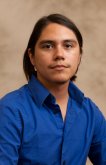 Congratulations to Kyle Bemis (Ph.D. program, studying under Olga Vitek), who recently won the ASA John M. Chambers Statistical Software Award 2015 for his R software package Cardinal.
The software was accepted to the Bioconductor project, and is available for installation via the development version of Bioconductor.  The software package, documentation for both users and developers, and example datasets can be found at http://www.cardinalmsi.org.
Kyle will be presented with the award at JSM 2015 this August in Seattle.  Again, Congratulations to Kyle!