Congratulations May 2014 Graduates
06-11-2014
(Click on images below to open a larger version)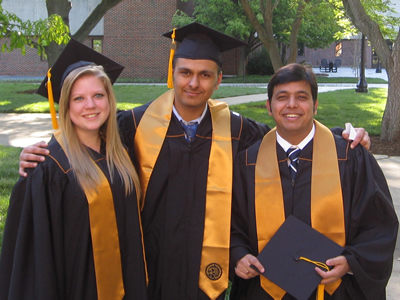 May 2014 - Statistics Graduates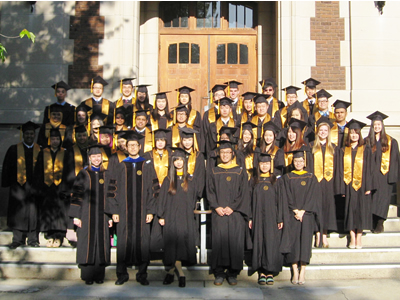 May 2014 - Statistics Graduates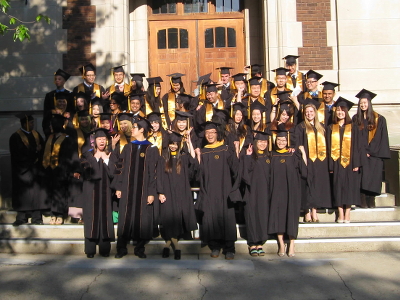 May 2014 - Statistics Graduates
In May 2014, Purdue University and the Department of Statistics awarded graduate and undergraduate degrees to the following people:
Ph.D. Graduates - (Advisor)
Dr. Allison Davidson (Advisor: Mark Daniel Ward)
Dr. Hyokun Yun (Advisor: S.V.N Vishwanathan)
M.S. Graduates
Mr. Mohneetsingh Ahuja
Ms. Chen Chen
Ms. Jiajie Huang
Ms. Yue Liu
Ms. Chunyan Sun
Mr. Wei Sun
Mr. Xi Tan
Mr. Jeffrey Ting
Mr. Han Wang
Ms. Yahui Wang
Undergraduates in Statistics and Actuarial Sciences
Mr. Rachit Agarwal
Ms. Syaza Ahmad
Mr. Nurlan Amanturlyuly
Mr. Kevin M. Amstutz
Mr. Stewart N. Bailey
Mr. Xuwei Bian
Ms. Claire E. Bourdon
Ms. Ang Cao
Ms. Pianpian Cao
Mr. Junyu Chen
Ms. Lingxiao Chen
Ms. Linzi Chen
Ms. Tete Cheng
Ms. Alice Chiang
Mr. Austin M. Childs
Mr. Sung Rai Cho
Mr. Zesheng Chu
Ms. Emily E. Clauss
Mr. Zachary N. Collignon
Ms. Fangwei Cui
Ms. Shuaijia Dai
Mr. Ryne L. Dolney
Ms. Siqi Dong
Mr. Ryan J. Farrell
Ms. Jennifer M. Franks
Ms. Marissa A. Gargano
Mr. Yong Sen Goh
Ms. Ruiyang Gong
Mr. Huanyi Guo
Mr. Abhishek M. Gupta
Mr. Robert L. Hansen
Mr. Kaixuan He
Mr. Yi Hu
Ms. Ye Hua
Ms. Liren Jiang
Ms. Zhouyilan Jiang
Ms. Shahreen Kibriya
Mr. Brandon J. Kill
Mr. Darmen G. Koishybayev
Mr. Kavit Kumar
Ms. Sarah A. Kusumastuti
Ms. Weibo Lan
Mr. John B. Leemhuis
Ms. Xiang Li
Ms. Antong Li
Mr. Siyu Lin
Ms. Yue Liu
Mr. Jacob O. Logan
Ms. Leslie A. MacDonald
Mr. Kieran G. Mackle
Mr. Sean D. McCabe
Ms. Yasnani B. Md Yassin
Ms. Fatin Farhana Mohd Pajri
Mr. Rinat Mukhamadiyev
Mr. Cody M. Pagels
Ms. Vivian M. Pang
Mr. Tairan Qiu
Mr. Yifei Ren
Mr. Bryce A. Scott
Mr. Qiao Shao
Ms. Wenting Shi
Ms. Sandy C. Shyu
Mr. David R. Snyder
Ms. Carly B. Stenger
Mr. Xinyu Sui
Ms. Xinyao Sun
Mr. Jonathan Tai
Mr. Matthew T. Tanabe
Ms. Bianca J. Voon
Mr. Minkang Wang
Ms. Sihui Wang
Mr. Wenda Wang
Mr. Yifei Wang
Ms. Jingyang Wang
Mr. David R. Wirtner
Ms. Hee Young Won
Mr. Jacob P. Wright
Mr. Zichen Wu
Mr. Jake Xu
Mr. Yi Yang
Mr. Chuang Yao
Ms. Xiaoxi Zhang
Mr. Chao Zhao
Mr. Lei Zhong
Mr. Dias Zhorabekov
Ms. Qingshi Zhou
Mr. Kehao Zhu
Congratulations to all of our May 2014 graduates. Best wishes to all of you, and we look forward to hearing from you soon!