Professor Jayanta Ghosh honored with the Padma Shri Award
02-03-2014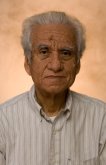 Congratulations to Professor Jayanta Ghosh for being honored with India's Padma Shri award. The President of India has approved conferment of 127 Padma Awards including one duo case (counted as one). The list comprises two Padma Vibhushan, 24 Padma Bhushan, and 101 Padma Shri Awardees.

Padma Awards, the country's highest civilian awards, are conferred in three categories, namely, Padma Vibhushan, Padma Bhushan, and Padma Shri. The Awards are given in various disciplines/fields of activities:
art
social work
public affairs
science and engineering
trade and industry
medicine
literature and education
sports
civil service
etc.
'Padma Vibhushan' is awarded for exceptional and distinguished service, 'Padma Bhushan' for distinguished service of high order, and 'Padma Shri' for distinguished service in any field. The awards are announced on the occasion of Republic Day every year. The awards are conferred by the President of India at a function held at Rashtrapati Bhawan sometime around March/April.

Please join us in congratulating Professor Ghosh for this honor!