Olga Vitek and Guang Cheng Receive Awards
04-29-2013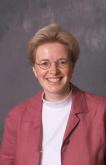 Olga Vitek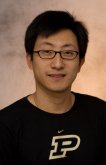 Guang Cheng
Olga Vitek, Associate Professor of Statistics, and Guang Cheng, Assitant Professor of Statistics, have both received awards from the Office of the Provost for the upcoming academic year, 2013-2014.
Olga Vitek has received a Faculty Scholar Award for the upcoming academic year, 2013-2014. The University Faculty Scholars Program recognizes outstanding faculty members at the West Lafayette campus who are on an accelerated path for academic distinction. Eligible faculty must hold the rank of tenured associate or full professor and have been in that rank for no more than five years. Faculty Scholars are appointed for a nonrenewable five year term and receive an annual $10,000 discretionary allocation.
Guang Cheng has received a Teaching for Tomorrow Fellowship Award for the upcoming academic year, 2013-2014. This award is provided by the Classes of 1944 and 1945 in order to foster continued excellence in teaching and learning on our campus and to facilitate the development of the teaching potential of the faculty. Annually, it recognizes up to twelve assistant professors (or recently promoted associate professors) for their demonstrated talent for teaching and three senior faculty members for their long-term contributions to teaching at the University.
Congratulations to Professors Vitek and Cheng for their awards!