Congratulations August 2012 Graduates
08-16-2012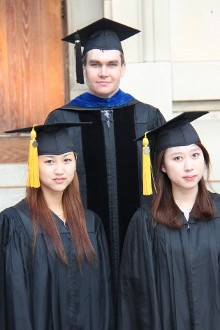 The Department of Statistics would like to congratulate all of our August 2012 graduates. On August 4 2012, Purdue University and the Department of Statistics awarded degrees to the following people:
Ph.D. Graduates (Advisor) Dissertation Title
Mr. Timothy Clough (Olga Vitek) "Statistical Protein Quantification and Prioritization in Label-Free Shotgun LC-MC/MC Proteomics"
Mr. Ritabrata Dutta (Guang Cheng and Jayanta K Ghosh) "Model Selection: Bayes and Frequentist Perspective"
M.S. Graduates
Graduate Certificates
Ms. Shasha Li
Ms. Wei Liu
Undergraduates in Statistics and Actuarial Science
Mr. Iman B. Khairuman
Ms. Yoonha Min
Ms. Rawan O. Mohd
Mr. Nikl Amirul Mukmeen B. Nik Md Yusof
Mr. Genesis M. Rodrigo
Best wishes to all of our graduates. We look forward to hearing from you!