Congratulations May 2011 Graduates!
05-31-2011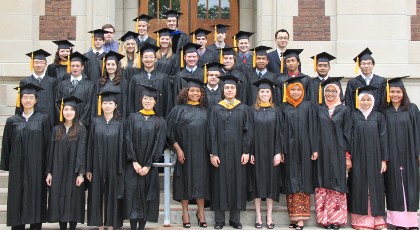 The Department of Statistics would like to congratulate all of our May 2011 graduates. On May 14, 2011, Purdue University and the Department of Statistics awarded degrees to the following people:
Ph.D. Graduates (Advisor) Dissertation Title
Mr. Tilman Achberger (Rebecca W. Doerge) "Selecting Subsets of Traits for Quantitative Trait Loci Analysis"
M.S. Graduates
Mr. Kyle Bemis
Ms. Angelitta Britt
Ms. Xun Cha
Ms. Jung Won Choi
Ms. Meena Choi
Mr. Weepoh Ee
Mr. Qiming Huang
Mr. Jinhak Kim
Ms. Sara Laurentz
Mr. Jianfu Li
Ms. Xinyan Liu
Mr. Christopher Miller
Mr. Lichen Ni
Mr. Sanvesh Srivastava
Mr. Kean Ming Tan
Ms. Daliana Vargas
Mr. Kenneth Wakeland
Mr. Yuequan Wan
Ms. Catherine Withey
Ms. Xu Wang
Ms. Yue Wu
Mr. Kan Yao
Mr. Shuai Yu
Graduate Certificates
Undergraduates in Statistics and Actuarial Science
Ms. Liyana B. Abd Majid
Ms. Nor Amirah B. Abd Rani
Ms. Nornazira Abdul Aziz
Mr Darron W. Bennett
Ms. Heather M. Bidock
Mr. Ka Wang Chow
Mr. Darren B. Doehrmann
Ms. Erin M. Fogarty
Mr. Tsung-Hsieh Hsieh
Mr. Mohd Nasrul Kamarulzaman
Mr. David A. Lennen
Mr. Michael A. McQueen
Ms. Rumaisa Mohamad Ali
Ms. Hamizah Sham Mohamed Arifin
Mr. Ronny Nelkenbaum Brajtman
Mr. Anthony E. Nieten
Mr. Ahmad Zaki Noh
Mr. Aiman Pata Ariffin
Ms. Dinah Athiah B. Razali
Ms. Sarah K. Ryan
Ms. Taylor R. Scarborough
Mr. Aaron M. Schaffer
Mr. Noah S. Sheeley
Mr. Imran Tuan Yaacob
Ms. Jiayin Wang
Mr. Ming Li Yeo
Mr. Haoan Liu
Mr. Abdul Rahim Ab Ghani
Mr. Jeremy A. Cunningham
Mr. Grant M. Goedde
Ms. Erin E. Hennessey
Mr. Andrew M. Hupfer
Ms. Yanyan Ma
Ms. Nur Farhana B. Md Isa
Mr. Jeffrey D. Stout
Ms. Deborah A. Sutton
Mr. Aidong Wong
Ms. Ka-Wai Yan
Ms. Julie M. Snuffer
Mr. Michael C. Burkhart
Mr. Daniel R. Kinnett
Ms. Soniya S. Potnis
Mr. Jacob C. Roth
Mr. Christopher N. Schillo
Mr. Alexander M. Schneider
Ms. Jing Q. Xue
Mr. Evan W. Austin
Mr. Kyle G. Baird
Mr. Jared S. Bannister
Ms. Veronica A. Crofts
Mr. Quan Hu
Ms. Zhisheng Li
Mr. Tyler M. Smith
Mr. Yize Wang
Mr. Michael S. Wleklinski
Mr. Sheng Yang
Best wishes to all of our graduates. We look forward to hearing from you!