Congratulations 2009-2010 Award Winners!
04-27-2010
The Department of Statistics extends congratulations to the faculty and student award winners for the 2009-2010 academic year. The awards program was held on Wednesday, April 14, 2010 in the MATH Library lounge. The Department of Statistics was pleased to have special guests in attendance including Lou Cote and David Moore, who have a scholarship and award named in their honor, and Dean Jeff Roberts, who presented the awards. Below are the awards for which faculty and students were recognized during the awards program.
Undergraduate Student Awards
V.L. Anderson Scholarship Award

Virgil L. Anderson
This scholarship is awarded to an undergraduate student who shows promise of contributing to statistics and its applications. The scholarship is in honor of Dr. Virgil Anderson who retired from the Department of Statistics in December 1986 after nearly 36 years. Professor Anderson was a leader in applied statistics on the Purdue campus and was the Director of the Statistics Laboratory, which was the forerunner of the Statistical Consulting Service. In great demand as a statistical consultant in industry, he authored widely used textbooks in experimental design. Other major themes in Dr. Anderson's work included statistical genetics and research on highways.
Winner: Eric Krafcheck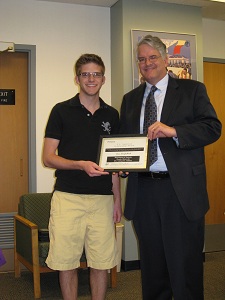 Baxter Award
Glen E. Baxter
The Glen E. Baxter Memorial Fund was established in 1983 by family and friends of Professor Baxter shortly after the premature death of this gifted teacher-scholar.
Annual proceeds from the fund are used to honor undergraduate students who have demonstrated excellence in mathematics. The recipients of the awards are selected by a committee of professors from the Department of Mathematics and the Department of Statistics.
Winner: Daniel Stratman
Winner: Kristen Ziegler
David S. Moore Undergraduate Scholarship Award

David S. Moore
The David S. Moore Undergraduate Scholarship is awarded to incoming students planning to major in statistics. Applicants for the scholarship must meet the requirements and complete the general College of Science merit scholarship application.
The scholarship is named in honor the David S. Moore, Shanti S. Gupta Distinguished Professor Emeritus and internationally recognized figure in statistics education.
Winner: Angela Hancock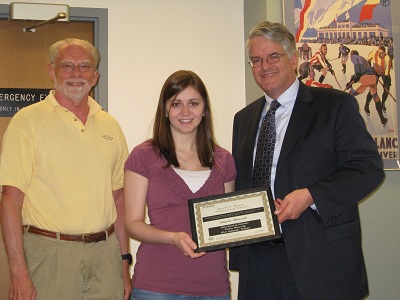 College of Science Outstanding Science Students
When making the selections for this award, the College of Science considered outstanding academic achievement, a strong academic program, and evidence of co-curricular involvement, such as undergraduate research, community service, and leadership.
Winners:
Trent Sahlin, Senior in Statistics
Elizabeth Moss, Senior in Actuarial Science
Xin Lu Tan, Junior in Statistics
Yanyan Ma, Junior in Actuarial Science
Nikita Datsenka, Sophomore in Statistics
Kelli Chupp, Sophomore in Actuarial Science
Bingrou Zhou, Freshman in Statistics
Lifan Wu, Freshman in Actuarial Science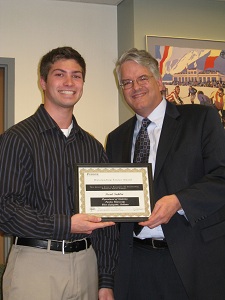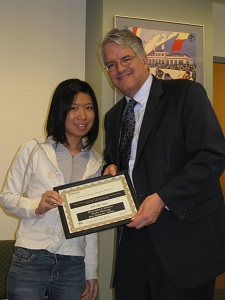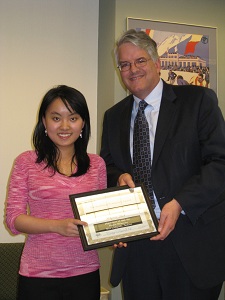 CNA Exam Award
The CNA Exam Award is given to undergraduate students who passed one or more Society of Actuaries exams in May 2009 and November 2009.
Winners:
Abdul Rahim Ab Ghani
Jennifer Aschenbrenner
Ben Berning
Weiwei Cao
Vaidehi Chhatrapati
Parker Crosby
Jeremy Cunningham
Sally Diesslin
Darren Doehrmann
Andrea Ferris
Erin Fogarty
Uuriintsolmon Ganbold
Grant Goedde
Erin Hennessey
Siliang Hu
Lingbo Huang
Qixuan Jiang
Eric Krafcheck
David Lennen
Chengyin Li
Yanyan Ma
Ben McCartney
Michael McQueen
Alex Morton
Elizabeth Moss
Anthony Nieten
Andrew Norris
Sarah Ryan
Trent Sahlin
Taylor Scarborough
Aaron Schaffer
Julie Snuffer
Deborah Sutton
Evonne Foo Hoon Tan
Sze-ie Tan
Xin Lu Tan
Richard Teach
Robert Urbanowicz
Jiayin Wang
Shu Wang
Booi Yee Wong
Aidong Wong
Kicho Yu
Songchen Zhang
Dan Rubin Award
This award is given to an undergraduate student who shows promise of contributing to actuarial profession. It is donated by Dan Rubin, FSA, who is a life insurance actuary at Nationwide Insurance and a Purdue Alum. Dan Rubin was one of the founding members of the Purdue Actuary Club.
Winners: Andrea Ferris and Grant Goede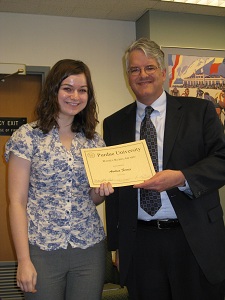 Andrea Ferris
Swiss-Re Award
Swiss Re is a leader in the reinsurance market, helping insurance and non-insurance clients to manage capital and risk. Swiss Re Life & Health North America is a subsidiary of Swiss Re, a global company based in Zurich, Switzerland. The award is chosen by the Actuarial Science Program faculty with input from representatives of Swiss Re.
Winners:
Ben Berning
Sarah Ryan
Kristin Shaffer