Eric Krafcheck awarded John Culver Wooddy scholarship
10-05-2010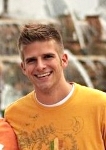 Congratulations to Eric Krafcheck, a senior in Actuarial Science, for being awarded a 2010/2011 John Culver Wooddy Scholarship. Eric was one of 13 college seniors from around the world chosen to receive the scholarship this year.
The John Culver Wooddy Scholarship is awarded annually to college seniors who have successfully completed at least one actuarial examination, rank in the top quartile of their class, and are nominated by a professor at their school. Each year, selected students receive $2,000 scholarships, established by the estate of John Culver Wooddy, a distinguished actuary who set aside funds to provide scholarships to actuarial students.
The Actuarial Foundation (TAF) administers the scholarship as part of its mission to carry out research and education projects in the field of actuarial science on behalf of the actuarial profession.