Jeffrey Roberts Named Dean of the College of Science
06-02-2009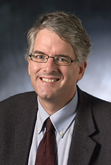 Jeffrey Roberts, chair of the Department of Chemistry at the University of Minnesota, has been named Purdue University's Frederick L. Hovde Dean of the College of Science.
The appointment, effective at the start of the fall semester in August, was announced Tuesday (June 16) by Provost Randy Woodson and is subject to approval by Purdue's board of trustees.
"Jeff Roberts is a distinguished scientist and outstanding academic leader who emerged as the top candidate in our national search," Woodson said. "His vision for science research and education, and his tremendous capabilities as a leader, will ensure the continued national prominence of the College of Science at Purdue University."
Roberts said he is excited to bring the college's resources and expertise to bear on accomplishing the university's goals and positioning the college for the future.
"Purdue has so much to be proud of in the College of Science, which will play an essential role in achieving the goals put forth by President France A. C?rdova and the Purdue board of trustees in the strategic plan," Roberts said. "I look forward to working with the Purdue community in this leadership position to build on the college's already formidable research portfolio, to support its many innovative teaching initiatives, and to foster new collaborations and partnerships within and outside of the university."