Bob and Marjorie McLean Endow Scholarship for Statistics Graduate Students
11-09-2007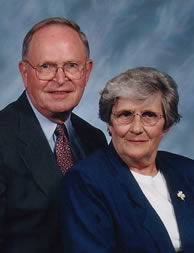 Over the course of their careers, Bob and Marjorie McLean, both graduates of Purdue, have developed a deep appreciation for the importance of giving back to their alma mater. "The concept of having success is a function of your past experiences," said Bob, who along with his wife, recently endowed the Bob and Marjorie McLean Scholarship for a student in the Department of Statistics. "We both had a great experience at Purdue. The whole fraternity in the Statistics department was unbelievable. We felt it appropriate to help someone else have a similar experience."
The McLeans' gift will help fund a statistics graduate student, starting during the 2008-2009 academic year. Students who have been accepted to the Statistics Department will automatically be considered for the scholarship. "We are very grateful to the McLeans," said Statistics Department Head Mary Ellen Bock. "This kind of contribution enables us to compete effectively for the very best and brightest students who are the heart of our work."
Throughout their lives, Purdue played an important role in shaping the McLeans' lives. Bob earned his bachelor's degree from Ohio State in 1951, and left academia to work and later join the army. During this time, however, he found a compelling reason to eventually continue his studies at Purdue. "I had a friend in the army who got a Masters degree at Purdue, and I thought he knew more than anyone else I'd ever known," Bob said. "So I thought I'd better go to Purdue too!" He arrived to study Statistics in 1955, and went on to earn his MS in 1957.
In the meantime, Marjorie earned her BS from Purdue in Natural Science Teaching in 1952, focusing primarily on Mathematics, Chemistry, and English. After graduation she taught high school in Columbus, Indiana for four years and attended summer sessions at Purdue. She returned to Purdue to study full time, and earned her MS in Mathematics in 1957.
While at Purdue completing their Masters degrees, Bob and Marjorie met on a rainy night, coming out of the departmental computer lab, and the two married a week after graduation. Then, they "bumped around the country for about five years", working in Oak Ridge, Tennessee, Phoenix, and Los Angeles, and during this time their two daughters were born. Eventually, however, Bob decided to return to Purdue, and completed his Ph.D. in Mathematics in 1965. While there, he found a tremendous friend and mentor in Virgil L. Anderson, who was "always there to pump him up anytime he needed."
After completing his Ph.D., Bob and Marjorie decided to return to Tennessee, and chose to join the faculty of the University of Tennessee in Knoxville. In 1974 and 1984, Bob co-authored two statistical textbooks with Anderson entitled Design of Experiments: A Realistic Approach; this text is still in use today. In addition, Bob also worked as an industrial consultant on the side, which brought up some of the challenges of interdisciplinary collaboration. "The concept of studying and using statistics can be narrow or broad," said Bob. "The narrow ones lead to research; the broad ones normally lead to consulting in other fields. In order to be accepted as a know-it-all in a particular field, you need to be able to talk the language of the people you're working with. The problems are the same, but the nouns and adjectives change."
Since his retirement in 1992, Bob and Marjorie have remained active within the statistical community. Until last year, Bob stayed with Tennessee University, and he has since spent a considerable amount of time volunteering with John Berry at the Hearing and Speech Foundation in Maryville, Tennessee. His work with the Foundation has primarily been to measure acoustics in order to improve hearing aid success rates. Ultimately, though, it was the ability to give back to Purdue that seemed to be one of the greatest contributions of all to the McLeans. "It just seemed like the right thing to do," said Marjorie. "We really truly love Purdue."