Purdue Statistics Department Announces New Scholarship
10-11-2006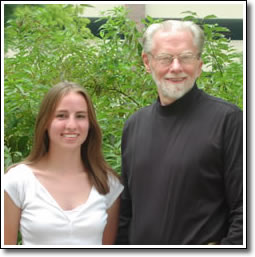 WEST LAFAYETTE, Ind. - Purdue University's Department of Statistics recently announced the first recipient of its new David S. Moore Undergraduate Scholarship.
Catherine Withey of Indianapolis was awarded the one-time, $1,000 scholarship, which is named in honor of Moore, the Shanti S. Gupta Distinguished Professor Emeritus and internationally recognized figure in statistics education.
The annual scholarship for freshmen planning to major in statistics honors Moore's contributions to his field and to Purdue, said Mary Ellen Bock, head of the statistics department.
"This is a wonderful way to recruit top students to an exciting field, and we are proud to be able to honor Dr. Moore's legacy," she said. "Moore is famous for his contributions to statistics education, and he worked to make statistics understandable to all students, regardless of their level of background in mathematics."
Moore authored or co-authored some of the most widely used introductory textbooks in statistics and was one of the content developers for the Annenberg and Corporation for Public Broadcasting college-level telecourse "Against All Odds: Inside Statistics."
Moore was named Outstanding Teacher in 1977 by the Amoco Foundation and, in 1994, was presented the National Award for Distinguished College or University Teaching of Mathematics by the Mathematical Association of America. He also served as president of the International Association for Statistical Education and the American Statistical Association.
Withey attended North Central High School where she won math student of the month awards and an academic all-conference award.
Students who have been admitted to Purdue's College of Science and are planning to major in statistics are encouraged to apply for the scholarship. Interested students must meet the requirements for and complete the general College of Science merit scholarship application. More information is available.
Writer: Elizabeth Gardner, (765) 494-2081, ekgardner@purdue.edu
Sources: Mary Ellen Bock, (765) 494-3141, mbock@stat.purdue.edu
Purdue News Service: (765) 494-2096; purduenews@purdue.edu