Congratulations December 2004 Graduates!
12-21-2004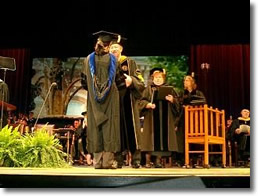 The Department of Statistics extends congratulations to all of our 2004 graduates. On December 17, 2004, Purdue University and the Department of Statistics awarded degrees to the following people:
Ph.D.
Ionut Florescu
Hongmei Jiang
Chuancai Wang
M.S.
Peter Castelluccio
Yang Jiang
Sehee Kim
Shannon Knapp
Alexander Lipka
Eunjung Lim
Dan Ma
Graduate Certificates
Undergraduates in Statistics
Neal Drasga
Bo Li
Tonia Johnson
Jenni Prior
Carl Svendsen
Shuhui Wang
Actuarial Science Majors
Neal Drasga
James Gould
Bo Li
Jenni Prior
Congratulations to all of our graduates. We wish you the best and look forward to hearing from you!
In the 2004 calendar year, the Department of Statistics has graduated 10 Ph.D. students, 25 M.S. students, 4 Graduate Certificate students, 13 Undergraduate Statistics students and 20 Actuarial Science students.