2008 Distinguished Alumnus David S. Chen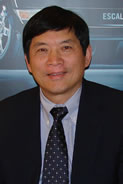 MS '83, Statistics, Purdue University
MS '84, Electrical and Computer Engineering, Purdue University
PhD '91, University of Michigan
Since 1984, David S. Chen has been working with General Motors Technical Center in Warren, Michigan, where he has conducted research in the fields of image processing, computer vision, statistical pattern recognition, and factory automation. When he was in research, his interests focused on applying artificial neural networks and statistical exploratory data analysis techniques to manufacturing process control and advanced vehicle control systems. He has published a number of articles in major referred journals on signal processing, computer vision, and artificial neural networks. 
David has been working on General Motors programs in China since 1994. He has held positions as managing director of Delphi Shanghai (then General Motors Automotive Component Group), executive director of new business development and planning, executive director of product development, and general manager of Shanghai General Motors Dongyue JV. He is currently the vice president of General Motors China and the general manager of General Motors China Beijing Operation responsible for corporate affairs and advanced technology management. David has played a key role in joint venture negotiations, merge/acquisition projects, product portfolio planning/development, and joint venture management. In addition to his degree in statistics, David also holds master's and doctoral degrees in engineering. 
Career Highlights
Present - Working with key stakeholders in lead Chinese universities, government agencies, and energy industry to develop a comprehensive automotive energy strategy for China to ensure China's automotive industry will have a sustainable future.
2004 - Plant manager for the second largest plant for General Motors in China, which built 50,000 cars in its first year of operation.
2003 - Responsible for development of a compact passenger car for General Motors in China. The car, Excelle, is the best selling car for Shanghai General Motors.
1990s - Responsible for a machine (computer) vision lab at General Motors Advanced Engineering Staff.
1980–1990s - Published research works about signal processing, pattern recognition, and neural networks learning algorithms in key IEEE journals.
Announcement that was given at the time of the award.
To read more about David S. Chen, read his Alumni Profile.